Newspaper Report For Madhyamik, H.S and All Competitive Exams
Kidnapped Report Writing has been given to all the students to write numerous "Kidnapped Report Writing". Just fill in the blanks with the correct information. You can read the samples and practice report writing. Most of the time report is written in the past tense. The report must be written in a single paragraph. Perhaps you will find that I have used more than one paragraph in some reports. I have used it for another purpose.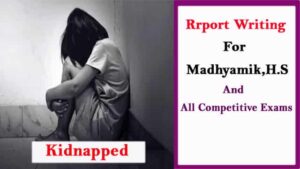 A college Girl Kidnapped Report Writing in About 150 Words
Kidnapped Report Writing Sample No-01
A COLLEGE GIRL KIDNAPPED
By a staff reporter
Kolkata, March 05: in a daring and sensational manner, a college girl, Rupali Barman, was kidnapped yesterday morning by four young men. When she was going to college, she was picked up from her car near from Shevok road. The driver and Rupali's friend were asked to go away. The kidnappers packed Rupali into their cars and drove away towards Jhargachi. The whole operation was done within five minutes. This incident has made all the people Shevok particularly, businessmen, absolutely panicky. Later in the evening, a phone call came to the Bhuben.
Rupali's parents heard her sad voice from the other end requesting them to help her. The kidnappers, it is learned, have demanded a ransom of rupees sixteen lakh. The police are trying to pinpoint the motive for the kidnapping it may be business rivalry or intrigue or retaliation by some asked employees. Shadows of anxiety have fallen among Rupali's fellow students of S.D College. Nobody in connection with the incident has yet been arrested.
Write A Report Writing On A Child Kidnapped In About 120 Words
Kidnapped Report Writing Sample No-02
A CHILD KIDNAPPED RS. 6 LAKH DEMANDED
By a staff reporter
Malda, June 12, 2002: A seven-year-old child was kidnapped by some miscreants from the house of a big businessman last evening. A gang of unidentified anti-socials broke open the house and kidnapped the only child of the merchant who is the owner of several restaurants. They had threatened the mother of the child with a pistol. The kid could only be returned on payment of a ransom of Rs. 6 lahks, within a week and from a specific spot. Then they vanished taking the child with his mouth stuffed with clothes. The police were informed and the investigation is on. Nobody in connection with the incident has yet been arrested.
Read More:
Madhyamik 2023 English Suggestion 
If you think this article ( Kidnapped Report Writing ) is good and necessary, you can share it with your friends and relatives through social media like WhatsApp, Facebook, and Messenger. Thank you! – Prakash sir