Bomb Explosion Report Writing For Mahyamik
Bomb Blast Report Writing has been given to all the students to write numerous "Bomb Blast Report Writing". Most of the time report is written in the past tense. The report must be written in a single paragraph. Perhaps you will find that I have used more than one paragraph in some reports. I have used it for another purpose.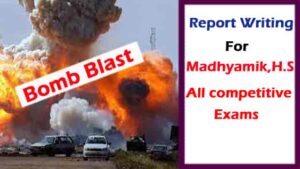 Newspaper Report on Bomb Blast in about 100 Words
BOMB BLAST
By a staff reporter
Malda, December 12, 2022: Ten persons were killed and fifteen injured when a powerful bomb exploded inside a shop in Malda yesterday at noon. The bomb blast completely destroyed the shop, nearby shops were partially damaged and the whole area plunged into darkness due to the explosion. The injured persons were taken to the nearest hospitals for treatment. The condition of six persons was stated to be serious. Human limbs were lying strewn all over the blast site. According to police sources, a search for more bodies was going on.
Read More:
If you think that this article ( Bomb Blast Report Writing ) is good and necessary, you can share it with your friends and relatives through social media like WhatsApp, Facebook, and Messenger. Thank you! – Prakash sir