The Poor WoodCutter and Water Goddess Short Story 
The poor woodcutter and water Goddess the story is for class X and Xi.
THE POOR WOOD-CUTTER AND THE WATER GODDESS
Once upon a time, a poor woodcutter lived in a small village. Every day he used to go to the nearby forest to cut firewood. He brought firewood and sold it in a nearby market. With his little earnings, he was very satisfied and managed his family.
One day he was cutting a tree near the river. Suddenly his axe slipped out of his hand and fell into the river. There was deep water in the river. He had only one axe. He thought the next day about how he would earn for his family. He started weeping and prayed to the Water Goddess.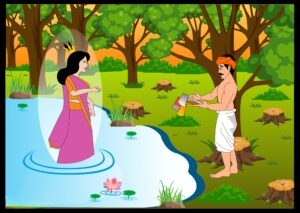 The water Goddess appeared in front of the woodcutter and wanted to know the reason for his weeping. He explained everything in detail to the Water Goddess. Then the water Goddess sank into the river.
After a while, she appeared with a golden axe. She showed the golden axe to the poor woodcutter and asked "Is it yours?" The woodcutter examined the golden axe and said 'NO'.
The Goddess again sank and come back with a silver axe. She showed the silver axe to him and asked: "Is this your axe?" The woodcutter examined and said "No". It is not my axe. I am a poor man. I had an iron axe.
Again the water goddess sank and appeared in front of him with an iron axe. She showed him and asked. 'Is this yours'' He saw the iron axe and became very happy. He said 'This is my axe.' The water goddess was very impressed with his honesty and gave him three axes.
Moral: Honesty is always rewarded. 
Read More: 
The grasshopper and the ant

The fox and the crow

The fox and the goat

The fox and the stork

The fox and the grapes

Birds: beasts and the bat

The lion and the mouse

The dog and the shadow

The wolf and the lamb

The sun and the wind

Boys and the frogs

The farmer and the snake

A farmer and the goose

The king and the spider

The piper and the rats

The cow-boy and the tiger

The man and the quarreling sons

The farmer and the ideal sons

The farmer and the lawyer

The widow and the doctor

Solomon's wisdom

Buddha and the mother