Write a biography on Jibanananda Das in about 120 words.
Jibanananda Das Biography Writing (Paragraph) is for students for educational purposes.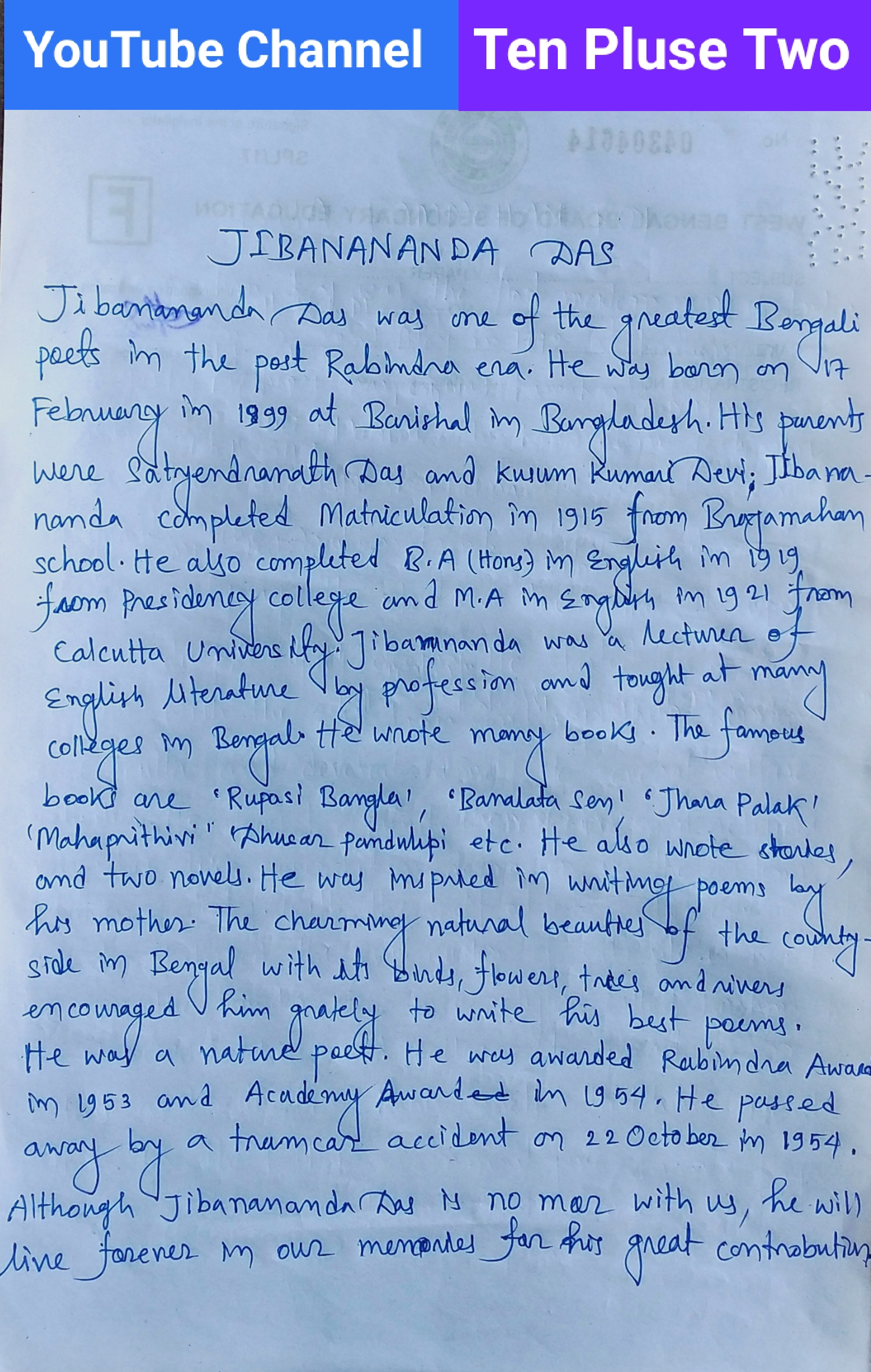 JIBANANANDA DAS
Jibanananda Das was one of the greatest Bengali poets in the post-Rabindra era. He was born on 17th February in 1999 at Barishal in Bangladesh. His parents were Satyendranath Das and Kusum Kumari Devi. Jibanananda completed Matricilatoin in 1915 from Brajamahan School. He also Completed B. A (Honors) in English in 1919 from Presidency College and M.A in English in 1921 from Calcutta University. Jibananada was a lecturer of English literature by profession and taught at many colleges in Bengali. He wrote many books. The famous books are 'Rupasi Bangla', 'Banalata Sen', 'Jhara palak', 'Mahaprithivi', 'Dhusar pandulipi' etc. He also wrote stories and two novels. He was inspired to write poems by his mother. The Charming natural beauty of the countryside in Bengali with its birds, flowers, trees, and rivers encouraged him greatly to write his best poems. He was a nature poet. He was awarded the Rabindra award in 1953 and the Academy Award in 1954. He passed away by a tramcar accident on 22 October in 1954. Although Jibanananda Das is no more with us, he will live forever in our memories for his great contribution.
You can watch the video to understand it well.
Madhyamik 2023 English Suggestion Click here………
Read More:
Raja Rammohan Roy

Satyajit Roy

Dr. A.P.J. Abdul Kalam

Tarun Mazumdar
If you think that this article (Jibanananda Das Biography Writing) is good and necessary, you can share it with your friends and relatives through social media like WhatsApp, Facebook, and Messenger. Thank you! – Prakash sir