A letter to father about your preparation for the final exam
Letter to father is the main theme of this post. I would like to say the viewers and readers that the word "Your" will be turned into "My" when you will read the answer on the answer paper. At first, I have written the question so that the readers can understand the question.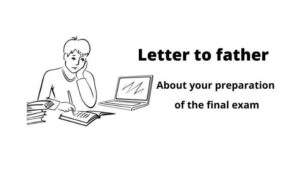 Question: Write a letter to your father telling him how you are preparing for your final examination.
                                                                                                  Netaji Hostel
                                                                                                  Calcutta District School
                                                                                                  Makdumpur
                                                                                                  February 02, 2019
Dear father,
                   I had received your letter that reveals that you are worried about my studies. I assure you that I will do well in the examination. I have paid full attention to my studies. I still can not complete two chapters of History. But my teacher has helped me greatly in this respect and I have overcome it. I do not waste time in any way. I hope to do well in Geography. I am interested in the subject. I am confident to do well in Bengali and English. I need only to revise the subjects before the examination. In the meanwhile, I will concentrate my attention on History.
Education is a very easy subject for me. My tutors have taken special care to make me ready for the examination. They always inspire and encourage me that I will quite well in the examination. You need not be anxious about my preparation for the examination which is knocking at the door. Please tell mother not to bother much about my examination.
                     I am quite well in health. Accept my regards and convey it to mother. As soon as the examination will be over, I will return home.
Priojit Thakur                                                                      yours affectionately
M.K Road, Bidhn nagar                                                         Ranjan Dutta
Birbhum
Go through more Article