H.S English Writing Skill Last Minute Suggestion 2021 for annual Exam WBCHSE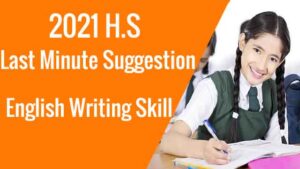 Only ten marks are for writing skills. The report, letter, and précis writing are in the writing section. But the students have to give an answer to only one question from that three parts.  There are various kinds of letter writing. But editor letter, letter to headmaster, business letter, complaint letter, and banking letter are included. The students should read, follow and practice the letter for the 2021 English exam.
WBCHSE English Reduced Syllabus
WBCHSE has published a reduced syllabus owing to global pandemic coronavirus. The reduced syllabus is the following.
If you do not know the news and syllabus you can read and get the information. Click here………….
The Date of English Exam 2021
WBCHSE had published a new routine due to pandemic covid-19. According to this routine, the second language (English) will be held on 17 June 2021. The examination will start at 10:00 am and continue up to 01:15 pm.
H.S English Writing Skills Last Minute Suggestion 2021
The cost of this suggestion is free.
WRITING SKILL
REPORT:
Question: Seminar on novel coronavirus awareness
Question: The Pandemic Novel Coronavirus click here for the answer…..
Question: Celebrating the 125 birth of Netaji Subhas Chandra Bose
Question: Firecracker banned click here for the answer………
Question: Blood donation camp
Question: Swachh Bharat Abhiyan /Nirmal Bangla Abhiyan
Question: Programme/ Celebration/ Function report writing format Click here for answer………
EDITORIAL LETTER:
Question: Editorial letter format Click here for answer ………
Question: Removal of garbage from your locality
Question: Accident caused by talking over phone
Question: Concern about covid-19
Question: Online classes for the school students
Question: Price rise of essential commodities
COMPLAINT LETTER
Question: Letter to the O.C of your local police station lost your mobile phone
BANK Letter
Question: Letter to the bank manager to open a savings account
Question: Application for educational loan
APPLICATION TO THE HEADMASTER
Question: Write an application to the headmaster to request for reference books in your school library. Click here for the answer ………
Question: Application to the headmaster/ headmistress writing format Click here for answer …………..
Writing Skill Suggestion 2021
I hope this Last Minute Suggestion 2021 will help you richly and you will get an idea on writing skill suggestions.
Poem Suggestion Click here……….
Prose Suggestion Click here……….
The Proposal Suggestion Click here……..
Please comment your valuable comment in the LEAVE A REPLY box if you will have got benefit from this post or article. your comment inspires and motivates me to write more arheticles for you.