Observation of Netaji Birthday Report Writing 
Welcome to the Digital English blog. 125th Netaji Birthday Celebration has been presented by the writer of digital English for the students of class 8, 9, 10, 11, 12, and others. At first, I have mentioned the question related to the topic. You may get such types of questions on the question paper in the exam hall.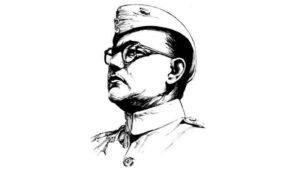 Question: Write a report on the celebration of Netaji's 125th birthday celebration in your school for the magazine published by the Raipur Durga Puja committee.
125th BIRTHDAY CELEBRATION OF NETAJI SUBHAS CHANDRA BOSE
Gopal Kumar Dutta
Student (class-XII)
XYZ School, 24th January, 2021
The 125th birthday of Netaji Subhas Chandra Bose was organized on 23rd January at 11 a.m in 2021 by our school. The school stage was richly decorated with flowers, small flags, festoons, and banners. All the teachers and students were present there in the morning of 23rd January. In our school grounds, the program was started with the arrival of the honorable chief guest Dipak Roy B.D.O officer who hoisted the national flag. Then the students of class 9 sang the opening song and the programme started running its own rhythm. Our headmaster welcomed the honorable chief guest and announced that the whole programme would be telecast online for the students and guardians. Our chief guest presided over the programme and delivered a brief speech on the necessity of celebrating Netaji's birthday in our school. After that, a little student of class 6 read out the short paragraph of Netaji. Thereafter our English teacher Tapan Chaki sir delivered a relevant speech on the topic. An audio drama conveying the message of the glory of Netaji in our society was highlighted by the students of class 10. To make the programme more glorious, reference books were distributed among the needy students on the behalf of the teachers. There was great enthusiasm among the students and they were looking highly spirited. At the end of the program, the headmaster delivered a short speech for the students and gave a vote of thanks to all for making the program a grand success. The students left for home at 4:00 p.m. getting a tiffin packet and storing some good memories in the layer of their minds.
I think you have got the right information about Netaji Birthday Celebration or Netaji Jayanti.
I have already given a programme report writing format that will help you to write reports at least 25 topics. 
Read more posts on report writing, I have attached the links with this post below.
Please comment your valuable comment in the LEAVE A REPLY box if you will have got benefit from this post or article. Your comment inspires and motivates me to write more articles for you.