WBBSE English Suggestion 2022 
Madhyamik English Suggestion 2022 is published for the students of class ten so that they can prepare for the coming WBBSE exam very soon.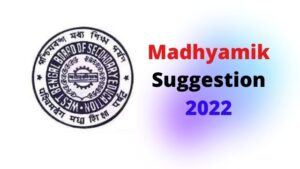 They can download the "Madhyamik English Suggestion 2022". Nowadays suggestion is very popular among the students. It has a great role for the home tutor.
Date of English Exam [Madhyamik 2021]
Every year WBBSE publishes a routine of next year's final exam after over the running exam. But this year the authority has not announced any routine due to the world web covid-19 pandemic and canceled the 2021 exam. As soon as we will get the updated news, we will inform you in our social media Facebook group.
Exam Place/Centre
Most of the students are very curious to know their exam center after the test exam. But it is not possible. As the school on which the responsibility is given, fixes the school. It sends the news to all the schools before ten to fifteen days.
Madhyamik 2022 English Syllabus & Important Topics
The syllabus of WBBSE is very simple. The students of 2022 have to read more than the students of previous years. As the exam of 2022 has been canceled, the students should study the complete syllabus.
Four prose
1.    Father's Help
2.    The Passing Away of Bapu
3.    Our Runaway Kite
4.    The Cat
Four Poems
1.    Fable
2.    My Own True family
3.    Sea Fever
4.    The Snail
Writing Section:
Paragraph

Report

Letter

Notice

Processing

Biography

Story

Dialogue

Summary
Grammar Section
Article, preposition, tenses, phrasal verbs, joining sentences, splitting sentences, voice change, narration change,
Transformation of sentences [degree change, simple-compound-complex, change in part of speech, the transformation of types of sentences, assertive, interrogative, optative, exclamatory.]
Question Pattern
Seen
Prose: 1X5= 5, 1X3= 3, 2X2=4
Poem: 1X4= 4, 2X2=4
Unseen: 1X6=6, 1X6=6, 2X4=8
Writing: 10X3= 30
Marks Distribution
The total number of marks for the English subject is 100. But those marks have been divided into two parts as written (90) and project (10).
Written section
Twenty marks are for Seen.
20 marks are for Unseen.
20 marks are for grammar.
30 marks are for writing.
WBBSE Madhyamik English Suggestion 2022
Paragraph Writing
Advantage and disadvantage of social media

Importance of early rising

Save drinking water

Your favorite person Click here
Black jungles Click here

Your last day at school

Discipline in student life

Merits and demerits of online education
 Report Writing
Bus/Train/ accident/Fire/Robbery Format Click here
Celebration/Programme report format

Click here

The super cyclone (Yass)
Letter Writing
To your friend about your experience of lockdown.

To be warned in the Covid-19 pandemic situation

Click here

Write a letter to your friend advising him not to be addicted to online games.

To your brother advising him to read English newspaper. 

Letter to the head of your institution to arrange special classes

Prayer for permission to organize a cultural programme
Notice Writing
Processing Writing
How the sanitizer is made

The processing of the mask

Sending a message from a mobile phone

Preparation of Phenyl
Biography Writing
Shankha Ghosh

V. Sindhu

Soumitra Chatterjee

Milkha Singh
 Story Writing
The monkey and the cap seller Click here

A clever judge

A lion and a little rabbit

Click here
Dialogue Writing
Between two friends about the advantages and disadvantages of lockdown 

Dialogue between two persons about the high price of essential commodities.

Student and teacher about learning English or spoken English.
Summary Writing
Practice from the question bank or test paper.
How to get high marks in Madhyamk in English
Most of the students want to get high marks in the exam. But all of them do not achieve good marks. There are some secret tips behind getting a high score. If you want to make a good result in WBBSE, you must have to know the rules and maintain them. Click here
Important notes of the students
Most of the students think the suggestions mean the same questions which are given on the question paper in the exam hall. But this concept is totally wrong. Suggestions refer to the experience of a teacher about question patterns and the possibility of the question of outcome question papers. That is why we suggest you go through the textbooks carefully and follow the question patterns of the previous years.  You can join our Telegram Channel and follow our Facebook Page for the latest updates.
 You can comment below about Madhyamik English Suggestion 2022 if you have any questions. We are waiting for your positive response.