Paragraph Writing about The Rainy Season in West Bengal or Rainy season in Bengal
The Rainy Season in West Bengal
The rainy season is unique among the other seasons. So our world poet Ra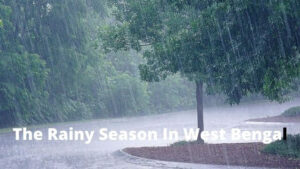 bindranath compared the rainy season to 'Kshatriya. The season truly similarities a soldier's advent. It captures the entire sky with a dark cloud, lightning is like the hash of its swords and thunders its exultation for victory.
It comes with kingly glory. We call it the second season in the Bengali rainy season. It appears all over Bengal with kingly gravity. It sets in just when the summer is over. In Bengal, the monsoon causes the rains. During this time southwest wind blows across the Indian ocean and the Bay of Bengal. So It absorbs profuse moisture.  The moisture turns into clouds and brings about rainfall. People plant and perspire all day long during the days of summer. They can not even sleep comfortably at night. The rivers, ponds, and streams get dried up. People have a sigh of relief as the sky pours down generously.
The economy of Bengal mainly depends on agriculture. The farmers irrigate most portion of the agricultural fields with rainwater. Timely and adequate rainfall assures huge production of crops, mainly paddy and jut.
Moreover, a good number of social festivals like 'Rathjatra', 'Janmashtami' and 'Varshamangal' is held in Bengal with great pomp in this season. The story of the rainy season does not end in joy and happiness. It causes much hardship and inconvenience to common people. Almost every year in incessant rain results in a devastating flood that causes great damage to crops, cattle, and many other things. Death of people is also common. Because, diseases like Malaria and cholera break out in the season. Out-door works get almost suspended.
However, we look upon the season as a boon rather than a bane.
I hope you have got the right and the best writing on The Rainy Season in West Bengal.
Read  More Posts: