We have arranged an online test exam. Anyone can test himself through the exam. We have given 30 multiple types of questions and each question has four options. The students will have to identify the answer. At last, the students have to click on the finish. After that, the result will come out.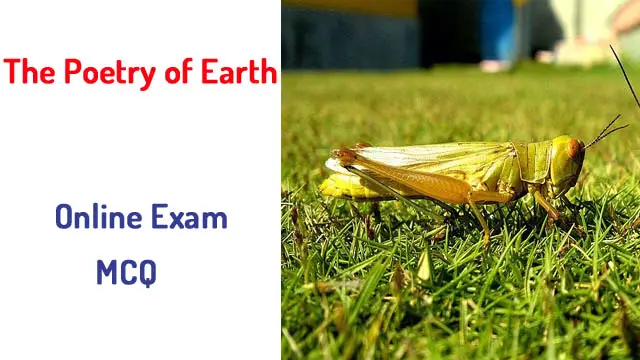 The rules of the exam: 
Complete all the questions.

1 minute is for each question.

If you get 70% marks, you are qualified.

Share it with your friends.

Read the question carefully.

You can practice it as you want.
#1.

The Poetry of Earth is ceasing ----
#2.

The rhyme-scheme of the sestet of the sonnet, 'The Poetry of Earth' is _______
#3.

To a drowsy man, the chirpings of the cricket is a reminder ___________
#4.

In Keats' sonnet 'The Poetry of Earth', The winter silence is broken by ________
#5.

The songs of the cricket seems to be a continuation of___________
#6.

The song of the cricket is heard from __________
#7.

The cricket finds warmth __________
#8.

The word that describes the winter evening in the poem, 'The Poetry of Earth' is _________
#9.

The cricket in the cold and silent winter ___________
#10.

In the poem 'The Poetry of Earth', the frost evokes the image of __________
#11.

The voice of the Grasshopper represents_____
#12.

Being tired with fun, the Grasshopper rests at ease beneath some____
#13.

"When all the birds are faint" ---- Here birds are faint with _______
#14.

The Grasshopper carries the music ________
#15.

The 'hot sun' is something that birds-
#16.

All the birds are faint with the hot sun and hide in cooling-
#17.

"…. a voice will run/ From hedge to hedge."--- Here we have the suggestion of a-
#18.

"When all birds are faint"__ Here birds are 'faint' with –
#19.

The adjective describing the meadow in 'The Poetry of Earth' is-
#20.

The Grasshopper takes rest when it is-
#21.

In the octave of 'The Poetry of Earth' Keats presents the music of-
#22.

To a half-asleep man, the shrill chirping of the Cricket adds meaning to the lonely winter evening by-
#23.

What is the effect of the cricket's song?
#24.

The winter evening is 'lone' because-
#25.

One is lost in drowsiness in the poem, 'The Poetry of Earth' because of-
#26.

The word 'ceasing' means-
#27.

The word 'lone' means-
#28.

The word 'shrill' means-
#29.

The word 'drowsiness' means-
#30.

The word 'increasing' means-
Results
Better luck next time!
you can now paste the shortcode onto any page or post
If you think this article (The Poetry of Earth MCQ Practice) is good and necessary, you can share it with your friends and relatives through social media like WhatsApp, Facebook, and Messenger. Thank you! – Prakash sir