my favorite poet in English literature  paragraph essay writing
My Favorite Poet OR
THE POET I LIKE MOST OR 
P.B.SHELLEY
I have read poems of many great Bengali and English poets. But it is a very hard job to say any name to be my favorite poet in English literature. Words Worth, Shelly, Keats, Byron, Browning are world-famous poets. But if someone askes me to say who my favorite poet is, my answer must be P.B. Shelley, the great romantic poet, lover.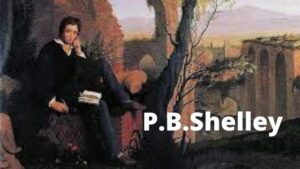 This great romantic poet of English literature was born in Sussex, England in 1792. Since his boyhood, Shelley lived in a world of dreams and fancy. He was absorbed in thoughts about ghosts, fairies, and dragons. Besides he used to roam about caves and ruins with the hope of having high communication with ghosts. This interest in the phantom world developed his romantic imagination. He was educated at Eton and oxford. At Oxford, he published a pamphlet under the title——"On the Necessity of Atheism"
And as a result, he was expelled from the university in 1811. This great poet did not live a long time. But he wrote a lot of beautiful poetry in a short time. Shelley is famous mainly for his lyrical poems are "The Cloud", "To a Skylark", "The Night", "Ode to the west wind" and etc.
This great poet drowned to death on 8th July 1822. Like Words Worth, he regards nature and he finds a spirit of thought and communion between nature and man. That is why P.B. Shelley is my favorite poet in English literature. His inspiring line always gives me strength when I recall— "If winter comes, can spring be far behind?"
You can download the PDF by clicking on the below link.
CLICK HERE TO DOWNLOAD THE PDF
Read More Posts:
MY EXPERIENCE OF A MOONLIT NIGHT
Here's What To Do Next…
OK
So I hope this guide has helped you how to write a paragraph on " The Poet I Like Most OR My Favourite Poet OR P.B.Shelley ".
Now I would like to hear from you:
What's helped you to learn?
Let me know by leaving a comment below right now.